SPA 3 Regional Health Office
COVID-19 Weekly Update
January 7, 2022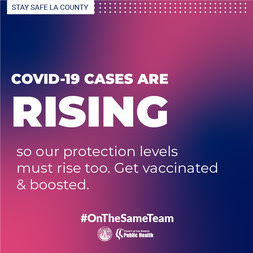 COVID-19 Cases are Rising
The number of COVID-19 cases continues to increase rapidly across LA County.
We are seeing certain age groups driving the current surge. Adults aged 18 to 49 are most likely to get infected and spread COVID-19 to others; adults in this age group comprised about 70% of all the new cases we saw for the week ending December 28. Case rates among 18- to 49-year-olds have also increased the most. These dynamics likely reflect the reality that adults ages 18-49 are intermingling the most.
While the explosive increases in cases indicate very high community transmission, we do have tools to protect ourselves and each other:
Vaccination and booster doses are still very powerful ways to reduce your risk of infection or transmission.
Testing before gathering will allow you to make smart decisions about whether to gather in person.
Wearing a well-fitted medical-grade mask or a respirator when you're in indoor public spaces or crowded outdoor spaces, or near someone you know to be vulnerable to severe COVID-19 infection, can keep you and others safe.
Click here for developing news on this winter's COVID-19 surge.
Updated Health Officer Order
The current Health Officer Order has been updated with new quarantine and isolation requirements:
Any individual exiting isolation after day 5 is required to have a negative test and be asymptomatic or with improving symptoms and with no fever prior to leaving isolation.
Any individual leaving quarantine after day 5 must have a negative test on day 5 and be completely asymptomatic.
Asymptomatic adults leaving isolation or quarantine after day 5 are required to wear a medical grade mask (surgical or respirator) when around others both indoors and outdoors for the 5 subsequent days. Children should wear a non-cloth mask of multiple layers of non-woven material with a nose wire, such as a child-sized surgical mask.
Unvaccinated close contacts, and those eligible but not yet boosted, must quarantine for the minimum 5 days.
While these amended isolation and quarantine periods apply to the general public, businesses and establishments must continue to comply with Cal/OSHA standards which now align with these changes. In establishments or settings with active outbreaks, DPH may extend quarantine and isolation periods to help control transmission risk. Businesses are also allowed to be more conservative than the agency and continue with their already-established isolation and quarantine periods.
Please click here for updated information about isolation and quarantine requirements.
COVID-19 Testing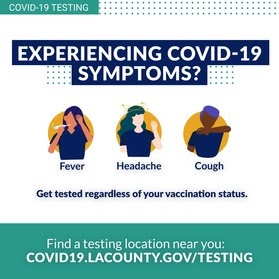 Testing is critically important since it helps identify potential sources of transmission before they have contact with high-risk individuals. It is a great tool for ensuring that people are not exposing others.
But testing itself doesn't protect you from getting infected It just enables you to check your status and make smart choices, and you hope others attending are doing the same.
If you are experiencing cold symptoms, especially headache, fever, or cough, get tested for COVID-19.
To find a testing site near you, click here.
The at-home COVID-19 testing program has been temporarily paused, and will resume the week of January 10.  A limited number of kits will be available daily.  For more information, and to sign-up for an at-home COVID-19 test kit, click here. 
New Masking Recommendations
The new Health Officer Order requires employersto provide and require employees to wear a well-fitting medical grade mask, surgical mask, or higher-level NIOSH-approved respirator, such as an N95, at all times while indoors at the worksite or facility. This order takes into effect as soon as possible and no later than January 17, 2022.
Click here for more information on mask wearing.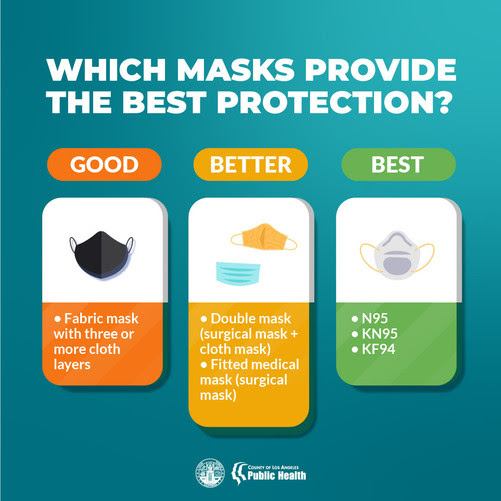 COVID-19 Resources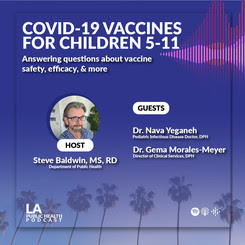 LA Public Health Podcast
The LA County Department of Public Health's LA Public Health Podcast provides COVID-19 updates & interviews with public health experts, in an effort to continue to keep LA County informed through more content and to continue to achieve & promote health equity for LA & beyond. On our next episode, we'll take a closer look into COVID-19 vaccines for children age 5-11.
Stay tuned and subscribe to our channel for new episodes every month!
Listen at:
---

Need a COVID-19 Vaccination Presentation?
The Los Angeles County Department of Public Health offers an array of presentations, including the Novel Coronavirus and COVID-19 vaccines.
If you would like to schedule a presentation for your organization, click here.
SPA 3 Resources and Announcements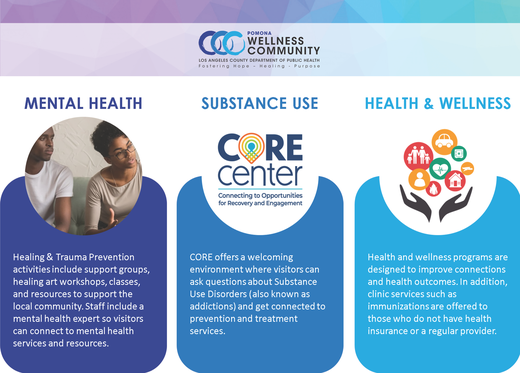 Pomona Wellness Community offers a place for community members to gather, find resources, or participate in wellness activities. Support includes mental health, substance use, and general health and wellness resources. All activities are FREE and open to the community. Our January program includes:
Visit our website: http://publichealth.lacounty.gov/chs/pwc.htm
Download our monthly calendar of programs here
Email:  [email protected]
---
Free Food Pantries
The L.A. Care Community Resource Centers in El Monte and Pomona will have food pantries onsite with weekly distributions.
El Monte:
Wednesdays, January 12, 15, and 26 from 2:30 p.m. – 4:30 p.m. at 3570 Santa Anita Ave., El Monte, CA 91731. Click here for more information.
Pomona:
Fridays, January 14, 21, and 28 from 2:00 p.m. – 4:00 p.m. at 696 W. Holt Ave
Pomona, CA 91768.  Click here for more information.
---
Free Online CPR & First Aid classes
L.A. Care's Community Resource Center in El Monte is providing FREE online CPR/First Aid classes in January and February in English and Spanish. Participants receive a 2-year American Heart Association CPR and First Aid Certification through their FREE virtual training. This is open to anybody who is 18 and older and would like to participate.
Limited class space is available and pre-registration is required. Participants must have access to a webcam or video phone to participate.
Click here for more information.
---
Workplace Wellness Essentials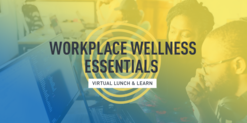 Join the Center for Nonprofit Management for a free wellness-focused Lunch & Learn on Friday, January 21 from 11:30 a.m. – 12:30 p.m.
Spiritual, physical and mental health are vitally important and we know that stress in the workplace is a very real challenge for professionals and their employers. Kick off the new year with this special session about the resources available for those living and working in LA County and how you can help your team thrive and grow in 2022.
Click here for more information and to RSVP.
---
Distracted Teenage Driving Virtual Presentation
LA County DPH Chronic Disease and Injury Prevention Program is offering free virtual presentations on distracted teenage driving for schools and community-based organizations working with teens. If you would like additional information or have any questions, please contact Allison Kwan ([email protected]) and Elaine Lai ([email protected]).
---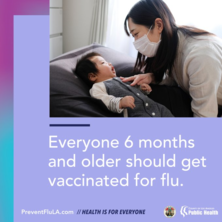 Get Your Flu Vaccine
The CDC recommends that anyone 6 months and older be vaccinated for the flu. Protect yourself and your family this flu season by getting vaccinated. To find a flu immunization site near you:
Call your doctor, or your local pharmacy
Call 2-1-1, the LA County Information Line (you can ask for locations where flu immunizations are LOW COST or FREE)
FREE flu vaccinations and COVID-19 testing are also offered at our Community Outreach Flu Clinics
---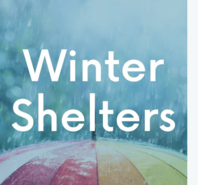 Winter Shelter Program
The Winter Shelter Program is held annually to protect people experiencing homelessness during Los Angeles's colder months. Winter Shelters are located all across the County, and will be operating 24 hours a day this year due to COVID 19.
For more information, visit the website, email [email protected] or call the Winter Shelter Hotline at 1-800-548-6047.
View English and Spanish Winter Shelter Flyers.
---