SPA 3 Regional Health Office
COVID-19 Weekly Update
January 14, 2022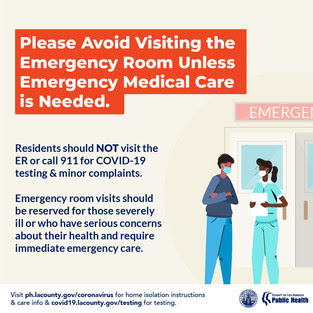 Los Angeles County continues to experience a winter surge. Daily cases have risen steeply from about 27,000 a day on New Year's Eve to over 43,000 new cases reported earlier this week. Almost one in four people getting tested are infected. The surge is also driving up hospitalizations and affecting health care workers.
While many patients are not hospitalized for COVID-19, there are over 4,000 COVID-positive patients at LA County hospitals. Meanwhile, COVID-19-related deaths have remained stable at an average of 22 reported daily deaths over the past week, as deaths are a lagging indicator and not likely to increase until a few weeks after cases and hospitalizations rise.
We urge the public to avoid visiting the Emergency Room for COVID-19 testing and minor medical issues, unless emergency medical care is needed.
Click here for developing news on this winter's COVID-19 surge.
Protecting Ourselves and Others
While the explosive increase in cases indicate very high community transmission, we do have tools to protect ourselves and each other:
Vaccination and booster doses are still very powerful ways to reduce your risk of infection or transmission, as well as hospitalization and death. No appointments are necessary – click here to view the locations.
Get tested if you are feeling sick, have symptoms, or have been exposed to someone with COVID-19.
Wear a well-fitted medical-grade mask or a respirator when you're in indoor public spaces or crowded outdoor spaces, or near someone you know to be vulnerable to severe COVID-19 infection.
Pause non-essential activities where people are unmasked and in close contact with others, and limit your time with others to essential work or school activities whenever possible until the surge subsides.

COVID-19 Testing Kits Available for Pick-Up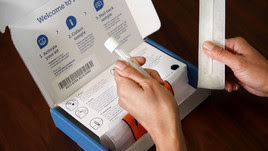 LA County launched a new testing program designed to increase and facilitate access to COVID-19 tests for LA County residents unable to obtain appointments.
The Pick-Up Testing Kit program allows residents to pick up a PCR test kit, perform the test and return the completed test to designated sites for processing. Residents will be notified of their test results within 24-48 hours.
Pick-Up Testing Kits are provided at no cost to you if you meet the following criteria:
Have symptoms of COVID-19, OR
Think you were exposed to COVID-19.
For more information on the Pick-Up Testing Kit Program, click here.
San Gabriel Valley Locations
Memorial Park North Recreation Center
320 N. Orange Ave.
Azusa, CA 91702
Monday – Saturday, 8:00 a.m. – 4:00 p.m.
San Gabriel Valley Airport
4015 Santa Anita Ave.
El Monte, CA 91731
Monday – Saturday, 7:30 a.m. – 4:00 p.m.
Wingate Park
735 N. Glendora
Covina, CA 91724
Monday – Friday, 7:30 a.m. – 5:30 p.m.
Know Your COVID-19 Testing Options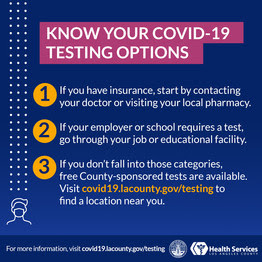 Regular COVID-19 testing is still taking place throughout LA County. With COVID-19 cases surging in LA County, please consider the following options to get tested for COVID-19.
Have insurance? Start by contacting your doctor or visiting your local pharmacy.
Need a test for work or school? Go through your job or educational facility.
Don't fall into those categories? Get a free County-sponsored test. To find a testing site near you, click here.
Masking
The new Health Officer Order requires employers to provide and require employees to wear a well-fitting medical grade mask, surgical mask, or higher-level NIOSH-approved respirator, such as an N95, at all times while indoors at the worksite or facility. This order takes into effect as soon as possible and no later than January 17, 2022.
Click here for more information on mask wearing.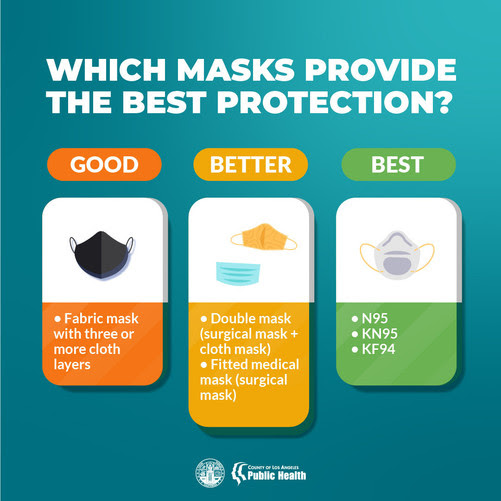 With schools back in session, in order to prevent the spread of the Omicron variant, upgraded masks are also required for school staff and strongly recommended for students.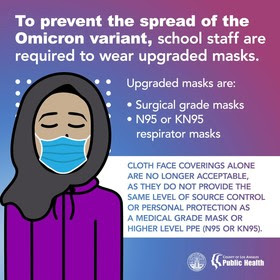 COVID-19 Booster Updates
The CDC has expanded recommendations for COVID-19 vaccine booster shots to now include everyone ages 12 years and older. At this time, only the Pfizer COVID-19 vaccine is authorized and recommended for teens ages 12 to 17.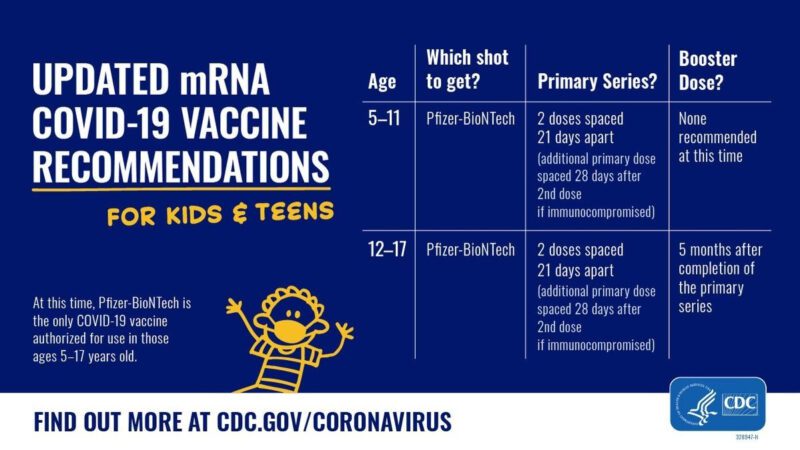 Also, the CDC has shortened the interval between primary vaccine series and the booster dose for mRNA vaccines from 6 to 5 months. This means that people who initially received an mRNA vaccine series – two doses of either Moderna or Pfizer – can now receive an mRNA booster shot 5 months after completing their initial series.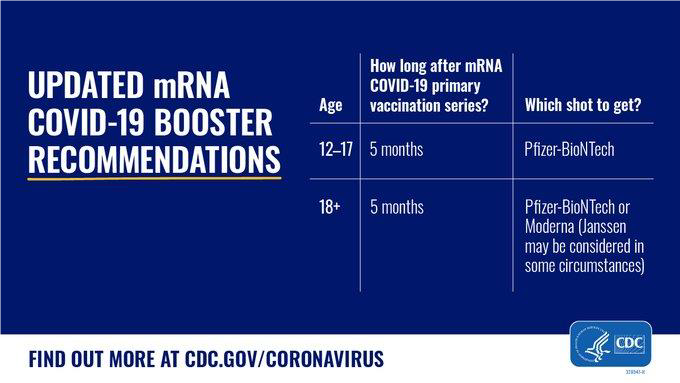 COVID-19 Resources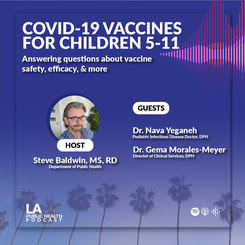 LA Public Health Podcast
The LA County Department of Public Health's LA Public Health Podcast provides COVID-19 updates & interviews with public health experts, in an effort to continue to keep LA County informed through more content and to continue to achieve & promote health equity for LA & beyond. On our next episode, we'll take a closer look into COVID-19 vaccines for children age 5-11.
Stay tuned and subscribe to our channel for new episodes every month!
Listen at:
---

Need a COVID-19 Vaccination Presentation?
The Los Angeles County Department of Public Health offers an array of presentations, including the Novel Coronavirus and COVID-19 vaccines.
If you would like to schedule a presentation for your organization, click here.
Pop-Up COVID-19 Vaccination Clinics Also Offering Testing
Morgan Park in Baldwin Park is offering the Pfizer and Moderna vaccines. To find out which vaccine you are eligible for, click here.
Visit vaccinatelacounty.com for more information about how to prepare for your appointment and what to do after you have been vaccinated. Many other sites throughout the San Gabriel Valley are offering the vaccine and taking walk-ins.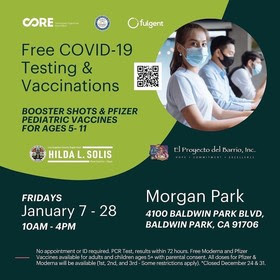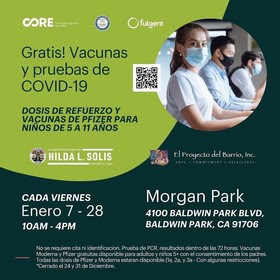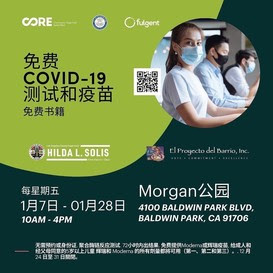 COVID-19 Testing Sites Near You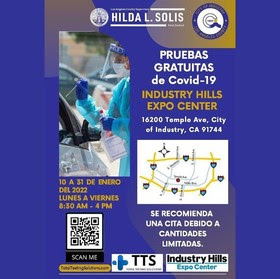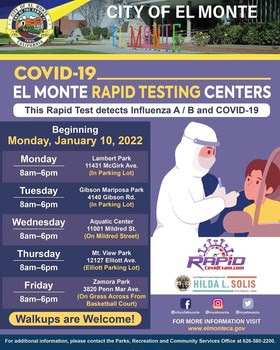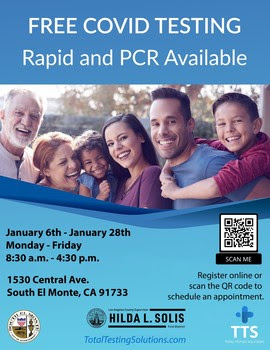 SPA 3 Resources and Announcements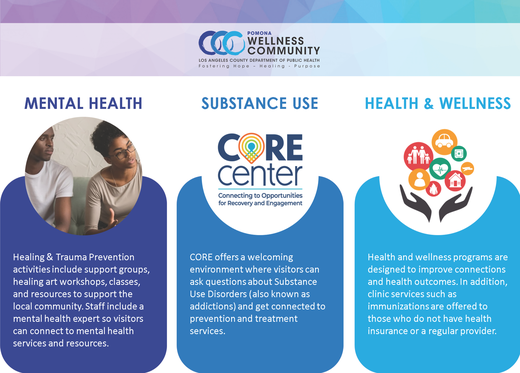 Pomona Wellness Community offers a place for community members to gather, find resources, or participate in wellness activities. Support includes mental health, substance use, and general health and wellness resources. All activities are FREE and open to the community. Our January program includes: